Colonel Mark M. Tull (Ret)
Senior Marine Instructor ("SMI")
MCJROTC – Orange High School (2021 – Present)
Colonel Tull is a native of Camden, New Jersey. He was commissioned a Second Lieutenant in 1986 through the Marine Corps Platoon Leaders Class after graduating from Rowan University with a Bachelor of Arts in Economics.
Colonel Tull then attended The Basic School where he was designated an artillery officer. After completing the Artillery Officer Basic Course on the Commandant's List, Colonel Tull was assigned Battery I, 3d Battalion, 12th Marines in April 1988. He served as a Forward Observer, Fire Direction Officer, Guns Platoon Commander and Executive Officer for the Battery. During this tour he deployed twice in the Pacific and also in support of Operation DESERT STORM, the liberation of Kuwait.
In August of 1991, Colonel Tull joined Marine Barracks Hawaii where he served as the Commanding Officer of Guard Company Pearl Harbor. In June 1993, he transferred to the 6th Marine Corps Recruiting District for service as the Project Officer. In the summer of 1996, Colonel Tull was selected to attend the Field Artillery Officer Advanced Course (FAOAC).
After graduating FAOAC as a Master Warfighter, Colonel Tull was assigned to 2d Battalion, 11th Marines (2/11) where he served as the Battalion Operations and Executive Officer. While with 2/11, Colonel Tull attended the Allied Winter Warfare Course in Elverum, Norway. In 1999, Colonel Tull was selected to attend the Marine Corps Command and Staff College (CSC) in Quantico, VA.
After completing CSC as a Distinguished Graduate and with a Masters degree in Military Studies, Colonel Tull was assigned to the Marine Air Ground Task Force (MAGTF) Staff Training Program (MSTP) where he served as the Fires Instructor and MAGTF Team Lead. While at MSTP, he deployed as an individual augment with 1st Marine Division for Operation IRAQI FREEDOM, the invasion of Iraq.
In 2004, Colonel Tull was assigned to 11th Marines for duties as the Regimental Operations Officer. He deployed from this position in support of Operation IRAQI FREEDOM 05-07 to serve in the Multi-National Forces West Headquarters as the Current Operations Planner.
Colonel Tull was then selected to command 3d Battalion, 11th Marines, and relinquished command in 2007 to attend the Industrial College of the Armed Forces (ICAF). Upon graduating from ICAF as a Distinguished Graduate and with a Masters of Science in National Logistics Strategy, Colonel Tull was assigned to serve at United States Southern Command in Miami, FL.
In 2010, Colonel Tull received orders to 1st Marine Division. While with 1st Marine Division, he deployed in support of Operation ENDURING FREEDOM, Afghanistan, where he served in the Regional Command Southwest Headquarters. On returning in 2011, he became the Division's Operations Officer, and in 2012, he became the Chief of Staff of 1st Marine Division.
In 2013 Colonel Tull was selected to command Headquarters and Service Battalion, Marine Corps Recruit Depot (MCRD) San Diego. After relinquishing command of the Battalion in 2015, Colonel Tull assumed duties as the Chief of Staff for MCRD San Diego and the Western Recruiting Region. He retired from the Marine Corps in 2017.
Colonel Tull's individual decorations include the Legion of Merit, Bronze Star, Defense Meritorious Service Medal, and multiple awards of the Meritorious Service and Navy and Marine Corps Commendation Medals.
Colonel Tull became the Senior Marine Instructor (SMI) of University City High School's Marine Corps Junior Reserve Officers Training Corps (MCJROTC) program in 2018 and served in this capacity through the end of the 2020-2021 school year. He assumed his current position as the SMI with Orange High School MCJROTC on July 1, 2021.
Colonel Tull is married and lives with his wife and daughter in San Clemente, California.
Master Sergeant Carlos Mata (USMC, Ret.)
Marine Instructor ("MI")
MCJROTC – Orange High School (2020 – Present)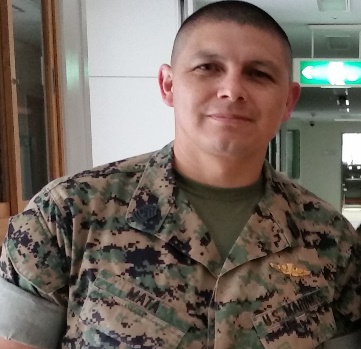 MSgt Mata grew up in French Camp, California and graduated from East Union High School in June of 1995. He reported to Marine Corps Recruit Depot (MCRD), San Diego in October of 1995 and completed Marine Combat Training thereafter.
MSgt Mata reported to Fort Lee, Virginia during February of 1996, completed the training to become a Food Service Specialist, and checked into the 9th Communication Battalion at Camp Pendleton. He was subsequently transferred to 1st Light Armored Reconnaissance (1st LAR) to serve as a food specialist.
Upon his promotion to Corporal during 1998, MSgt Mata was transferred to 1st Air Naval Gunfire Liaison Company (ANGLICO). He was selected for Airborne School at Fort Benning and earned his Gold Jump Wings by participating in both day and night jumps from UH1 Huey helicopters, CH-46 Sea Night Helicopters, and C-130 Hercules aircraft.
Upon his promotion to Sergeant in 1999, MSgt Mata was transferred to the 1st Marine Expeditionary Force before joining Bravo Company of the 1st LAR and deployed with the 11th Marine Expeditionary Unit (MEU), Special Operations Capable (SOC).
In May of 2000, MSgt Mata reported to Drill Instructor's School at MCRD, San Diego and joined Lima Company, 3rd Battalion upon completion of his training. He was promoted to Staff Sergeant during 2002, and transferred to Special Training Company where he worked with the Basic Marine Platoon, Marine Rehabilitation Platoon, and the Physical Conditioning Platoon while serving as a Drill Instructor, Senior Drill Instructor, and Platoon Sergeant.
MSgt Mata deployed to Okinawa, Japan during October of 2004 and assumed the billets of Assistant Mess Hall Manager and Mess Hall Manager at Marine Corps Air Station, Futenma.
Returning to Camp Pendleton in December of 2005, MSgt Mata deployed to Al Province, Fallujah, Iraq shortly thereafter and served as the Assistant Contracting Officer's Representative for six months. He then transferred to Al Ramadi, Camp Blue Diamond and served as the Combat Operations Center Chief for the 7th Military Transitioning Team.
MSgt Mata returned to Camp Pendleton during February of 2007 and became the 1 MHG Field Mess Chief and the 1 MEF Substance Abuse Control Officer. He reported to Officer Candidates School in Quantico five months later and assumed the billets of Sergeant Instructor and Platoon Sergeant. Upon his promotion to Gunnery Sergeant in 2008, MSgt Mata was given the responsibility of serving as Company Gunnery Sergeant and acting First Sergeant. He completed his tour by serving as an evaluator and curriculum developer.
MSgt Mata first reported to Marine Wing Support Group – 37 at Miramar, California during 2011 before he joined Marine Aircraft Group 16 where he served as Food Services Chief, Logistics Chief, and Unit Victim Advocate. Selected for promotion to Master Sergeant in December of 2013, MSgt Mata became the Regimental Food Service Chief for 11th Marines at Camp Pendleton.
Deploying to Marine Corps Air Station, Iwakuni, Japan during June of 2015, MSgt Mata joined Marine Wing Support Squadron 171 and served as the Food Services Chief and Logistics Chief. He retired from the U.S. Marine Corps during March of 2017.
Personal decorations include:
Navy and Marine Corps Commendation Medal (2)
Navy and Marine Corps Achievement Medal (4)
Army Achievement Medal
Marine Corps Good Conduct Medal (6)
Military Outstanding Volunteer Service Medal
Certificate of Commendation (4)
Meritorious Mast (2)
Letter Of Appreciation (16)
Certificate Of Appreciation (3)
Service awards include:
Navy Unit Commendation
Navy Meritorious Unit Commendation
National Defense Service Medal (2)
Armed Forces Expeditionary Medal (3)
Iraq Campaign Medal
Global War On Terrorism Medal
Sea Service Deployment Ribbon (4)
Marine Corps Drill Instructor Ribbon (2)