Company Commanding Officer
Cadet Captain Laura Sanchez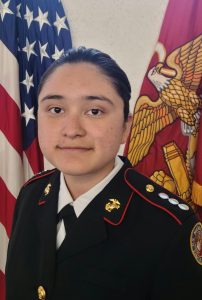 Remarks regarding the OHS MCJROTC Program
MCJROTC is a program that is both challenging and motivating to the cadets, and has brought me many opportunities for self-improvement.  This program has pushed me to improve physically and mentally.  Being a leader is challenging but I'm willing to go above and beyond for this program and the cadets. I look forward to every day of learning and passing on my knowledge. This is my fourth and final year in the program, and I will make it my best. 
Company Executive Officer
Cadet First Lieutenant Alicia Cruz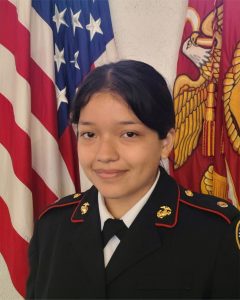 Remarks regarding the OHS MCJROTC Program
This is my senior year and my fourth year in MCJROTC. The program has provided me opportunities to learn and grow that I could not get anywhere else. MCJROTC has given me memories I will remember forever. Joining the Color Guard and Drill Teams provided me opportunities to perform in front of hundreds of people at football games, state conferences, Universities, High School competitions, and Anaheim Mighty Ducks NHL games. Other highlights include attending a Drill Camp in San Antonio, Texas, and traveling to Washington D.C. to meet my Congressman, the Honorable Lou Correa; tour the Capitol Building, and visit museums, military posts, Arlington National Cemetery and all the monuments. ALL FOR FREE. Being in MCJROTC has helped me to stay motivated in school, to do my work, and to look at future options.
I know I am better prepared for life's future challenges because of what I learned in MCJROTC.
Company Adjutant/Operations Officer (S-1 & S-3)
Cadet First Lieutenant Jasmin Herrera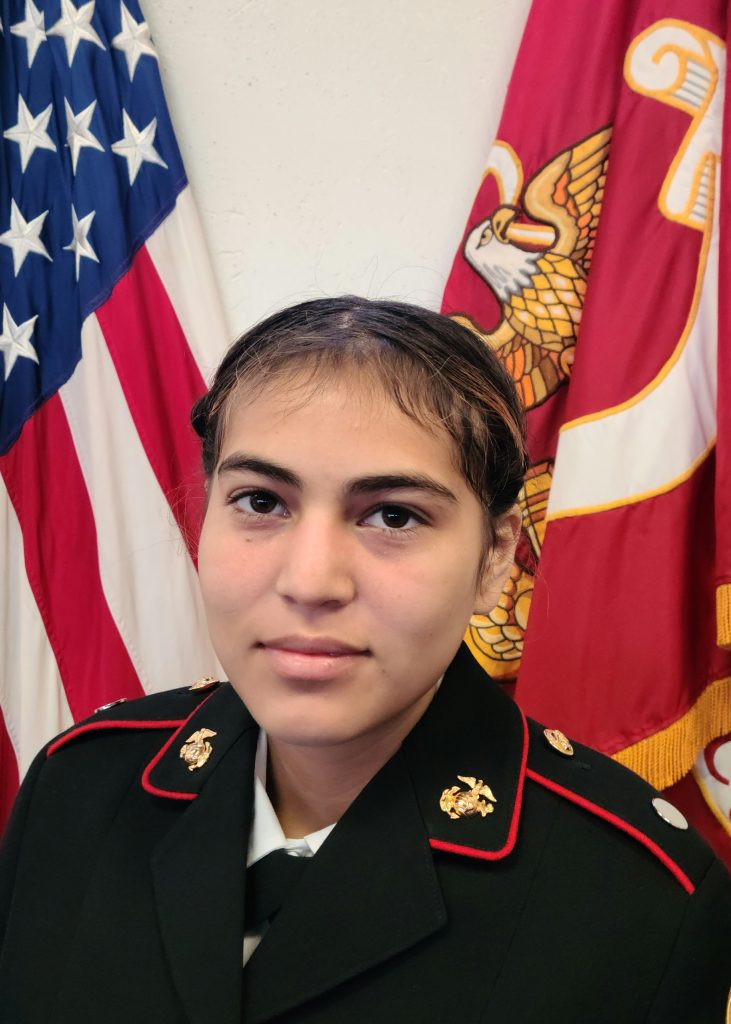 Remarks regarding the OHS MCJROTC Program
I decided to join MCJROTC my junior year. My only regret is that I didn't join as a freshman. JROTC has taught me responsibility, how to be a leader, and how to better organize my work. I also gained confidence and motivation, and have met so many good people and found new friends. My most exciting and memorable experience was traveling to Washington D.C. to meet with our Congressman, the Honorable Jose Luis Correa. Congressman Correa gave us a private tour of the Capitol building, explained how the government works, and had lunch with us. I was also able to see the Washington Monument, the Lincoln Memorial, the Dr. Martin Luther King Memorial, the Pentagon, Smithsonian Museums and HQ Marine Corps. My participation on Color Guard and Drill Teams give me the chance to perform confidently in front of large audiences. Looking at my future now, I think the military is a good fit for me.
Company Logistics Officer (S-4)
Cadet First Lieutenant Daniel Suazo
Remarks regarding the OHS MCJROTC Program
In my four years of MCJROTC, I have learned a lot about the Marine Corps, leadership, drill, physical training, and teamwork. It has been challenging, but overcoming these challenges has helped me become a better person, teammate, and leader. MCJROTC has taught me how to lead a groups of my peers and how to teach drill, proper wear of the uniform, and physical training. I keep reflecting on the Leadership Principle of "Know yourself and seek self-improvement". This has helped me develop self-discipline and become better than I was before. My experiences in MCJROTC have better prepared me for my journey to become a Marine Corps Officer.