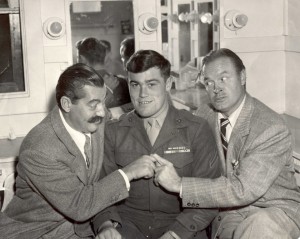 James H. Fearns enlisted in the Marine Corps in 1945, and served with the famed 1st Battalion, 1st Marines (1/1 – the "First of the First") in combat operations in both WWII, Korea and Vietnam, including the famous battle for the "Frozen" Chosin Reservoir in 1950 and Khe Sahn in 1968. His decorations include the Navy/Marine Corps Medal, the Bronze Star with Combat "V", and the Navy/Marine Corps Commendation Medal.  His postings included service in China, and as a Drill Instructor for new recruits.  Mr. Fearns retired from the service in June 1968, and spent the following 22 years in law enforcement as a Probation Officer with the County of Orange.
Following his retirement, Mr. Fearns served on the Orange Unified School District Board of Education from 1993-1997.  During his tenure on the Board, Mr. Fearns single-handedly obtained the charter to found the Marine Corps Junior ROTC Program at Orange High School (See Program History).  In recognition of his efforts, the OUSD Board dedicated the ROTC facilities in his honor in 2003, and noted during the ceremony that "there is no question that the ROTC program would never have begun had [MGySgt FEARNS] not pursued the matter with the single-minded determination and grit one would expect from a Marine."  Following the ceremony, MGySgt Fearns was awarded the Meritorious Public Service Medal by the Marine Corps, citing his "steadfast determination, selfless dedication and tireless efforts on behalf of the Marine Corps Junior ROTC Program, which reflected great credit upon himself, and upheld the highest traditions of the Marine Corps and the United States Naval Service."
In addition to his term on the Orange Unified School Board, Mr. Fearns served on the Boards of the Orange YMCA and Sister Cities International, and as a Military Advisor to St. Catherine's Military School in Anaheim. In recognition of his outstanding leadership and significant contributions to the community, the Freedom's Foundation at Valley Forge awarded Mr. Fearns their highest honor, the George Washington Medal.